20 October 2017
Chengdu
The first thing I realised is it's not the way we pronounce it. It's pronounced almost like chandu with a very soft 'g'.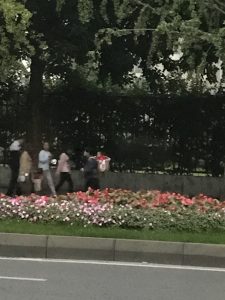 The airport walk is lined with welcome messages with pictures of pandas. Air is smogy. It's 5:30 pm but looks like 7:30 in Singapore. It must have just rained as roads are wet. It's pleasant outside. Not cold, just right.
Our drive from airport is over very comfortable and reliable roads that I've now come to expect of China, lined with showrooms of ultra luxury cars – Bentley, Lincoln, Mercedes-Benz, et al
Mobikes, ofo bikes, motor bikes and cute rickshaw like (what are they called) commute three wheelers. There's substantial traffic on road, bus stops are crowded too. Must be office hours. I see a dad carrying a baby in a basket on his back.
The driver says people speak Sichuan dialect, need to confirm. We pass by a beautiful traditional architecture of a university – supposedly the oldest university in the province, jinjiang hotel which is the oldest hotel in chengdu. Tiangfu square is gorgeous and full of people like Shanghai's people square.
We are welcomed at Ritz Carlton by an acrobatic server of tea.
Internet is crazy slow, access to whatsapp is limited and there's no Facebook, google – and life already seems difficult. Sachin's been introducing chillies as peppercorns and I differ. Just want to ensure so pick up my phone to google – but alas. Then i think of bing and it sucks. So no conclusive answer. The verdict has to wait. I miss google already.